Moderators: letumgo, William Anderson
Posts: 2195
Joined: Sun Feb 22, 2009 5:11 am
This chart is new to me:
Comes from another forum:
https://www.flyfishing.co.uk/fly-tying- ... ative.html
dd
Posts: 14
Joined: Tue Jan 15, 2019 6:18 pm
Location: Maryland
In unpacking all my tying stuff, I found two plastic tubes, one of Gossamer Silk and one of Maribou floss, all on wooden spools, both labeled.

These were purchased directly from Veniard's, as I recall.

As I was not tying between 1977 and 1992, It would not seem that they came from the 80s (Pearsalls quit using wooden spools) nor the 90s.

My best guess would be early 70s.

I'll try to get some good photos to post.

Has anyone found a substitute for the standard hot orange? I've tied some flies with the Gossamer and its a perfect match, but for the size of the thread... I'm pretty sure the fish won't notice the difference, but the fisherman does.....the top photo is the store bought,(sorry a little out of focus), and the other is the gossamer.
At a local fly shop in Camp Sherman, Oregon on the Metolius River, a small, #18, partridge and orange soft hackle is sold. That fly has accounted for many fish for me. It has taken me a couple years to figure out what the body is tied with. It was not until letemgo, gifted me some spools of Pearsall's Gossamer that I figured it out. It is definitely Pearsall's #19. Ray sent me a spool of Gossamer hot orange, but the diameter of the Gossamer is clearly smaller than the silk used in the fly purchased from the store. Am I correct that the Gossamer is a smaller diameter thread from the standard Pearsall's?
ronr,
Pearsall's made several different silk threads for stitching, embroidery, rod building, fly tying, etc. The two Pearsall's threads used most often for fly tying and rod wrapping are Gossamer and Naples. Pearsall's Gossamer is 126 denier, which is an industry standard measure of thread size related to the measured weight of a specific length of the thread. Pearsall's Naples silk thread is 189 denier and, thus, about 50% larger in cross-sectional area than Gossamer. Pearsall's Marabou Floss is larger still (over 1000 denier I think), but it is a flat floss thread and not a twisted like Gossamer or Naples. Marabou could be twisted to form a corded body, and I think it is still available in many colors. It's not very popular with fly tyers, and supplies haven't sold out yet.

Phil
Site Admin
Posts: 11916
Joined: Sat Feb 21, 2009 7:55 pm
Location: Buffalo, New York
Contact:
Ron,

There is a chance that the top fly is tyed with Pearsall's Marabou silk floss. Marabou has multiple strands of silk, and can be split down to suit the tyers intent. If the strands are twisted together, they would form a hefty body, with pronounced segmentation.
Posts: 2195
Joined: Sun Feb 22, 2009 5:11 am
What if you twist three strands together?

dd
Im guessing this must be the Naples... the size being 50% larger seems about right... the material in the top fly is definitely not a flat thread... I bought Alec Jackson's #19 silk floss thinking that might have been the right stuff, but it was not the same..

I will try twisting a few strands of Gossamer together and see how that turns out.... thanks for the responses
The UK forum didn't cite the source; it's from Edmonds and Lee, Brook and River Trouting. Here's a picture from the first (1916) edition, which was privately printed: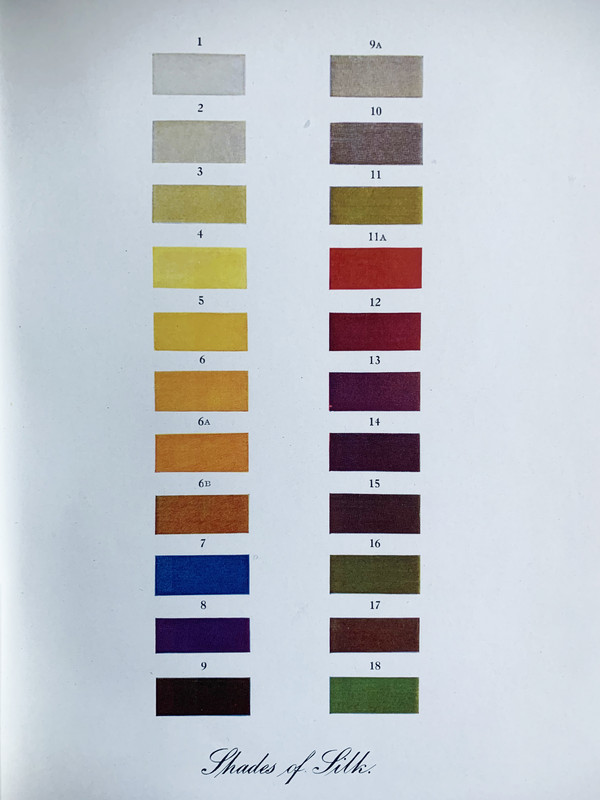 I'd prefer to get a scan, but doing so would compromise the binding; I need to wait until I can get access to an overhead book scanner.
bb
Interestingly enough, when I was in Yorkshire last month, Rob Smith took me by the building in the city of Bradford where the silk color charts were produced for well over a century. If you have or have seen a Pearsalls Silk Color Chart it was made in this building.
Sorry it's flipped, some glitch keeps messing it up but at least you can see what the place looks like if you cock your head!
Posts: 2195
Joined: Sun Feb 22, 2009 5:11 am
John, you probably had a couple of pints to many


dd