Moderators: letumgo, William Anderson
Posts: 412
Joined: Tue Aug 14, 2012 7:09 am
Location: Between denial & paranoia in Sydney
Contact:
That looks like it!

Last edited by
Boris
on Fri Dec 07, 2018 5:36 am, edited 1 time in total.
Site Admin
Posts: 1158
Joined: Tue Mar 24, 2009 9:28 pm
Location: Cheesehead
Contact:
It was called a "British Fishing Helmet" of all things. Similar to a Deerstalker but not exactly the same. Orvis sold them way back. It was the best fishing hat I've ever owned and I wore it until it fell apart. Never seen another quite like it.Scan.jpg
Here's another photo of me wearing that hat. Do you know who the other angler is?
[/quote]
John,
That is a great gillie hat!!
In a book I was reading the other night about an English gentleman fishing with their gillie and all the services the gillie performed. A light bulb went off (
after a couple glasses of wine
) that I am the Flymph Forum Gillie!!!


Is the other fly fisher John Goddard?
No John, it's Ernest Schwiebert. I did meet Goddard several times but never had the opportunity to fish with him. However a very good female friend of mine knew John very well and had boxes of his flies. The largest dry fly trout that I ever saw come out of the Upper Madison (YNP) ate her Goddard Caddis, one tied by John himself.
Site Admin
Posts: 1158
Joined: Tue Mar 24, 2009 9:28 pm
Location: Cheesehead
Contact:
Now that makes me want to go re-read "Remembrances of Rivers Past". I think you already know my favorite chapter in Schwiebert's book.

John
Site Admin
Posts: 11828
Joined: Sat Feb 21, 2009 7:55 pm
Location: Buffalo, New York
Contact:
John - Do you know what length rod Ernie was fishing? It looks very long (10 footer?)
Posts: 6312
Joined: Tue Jun 08, 2010 4:59 pm
Location: Arrey, N.M. aka 32°52'37.63"N, 107°18'54.18"W
Howdy All;
I became intrigued by John Shanner's fishing helmet. Nosed around in the googleweb
and found the following;
https://books.google.com/books?id=cNk9A ... et&f=false
Goes back aways ... and also provides more to the adage about the Military
is responsible for a huge amount of what we take as everyday stuff.
hank
Striving for a less complicated life since 1949...
"Every day I beat my own previous record for number
of consecutive days I've stayed alive." George Carlin
Ray,
I remember that rod well. It was a T&T Paradigm 8' 5 weight Bamboo. Ernie was poster boy for T&T at the time and Barry Beck was doing a photoshoot. One of the photos ended up on the cover of Fly Fisherman Magazine the next year. I was in the original photo but of course was cropped out! It was as close as I ever came to being on a magazine cover...... Ernie was always nice to me and he actually was a very, very good angler; he cast a beautiful smooth line and knew every bug in the river by name. An entire generation of anglers grew up on his writing and while there's some controversy around him, mostly from people who didn't know him, he did a tremendous job of bringing fly fishing to a large audience through his writing.
Posts: 412
Joined: Tue Aug 14, 2012 7:09 am
Location: Between denial & paranoia in Sydney
Contact:
John,

I have an old VHS - that dates me - of Earnie and Geoff Thomas of NZ, fishing the Rangitikei River on the North Island. Its an interesting episode for many reasons but not least of all for the fly tying by the stream without a vice. I've always liked that episode for its varied and interesting content.

Of course, Earnie wears his signature hat.
Posts: 2195
Joined: Sun Feb 22, 2009 5:11 am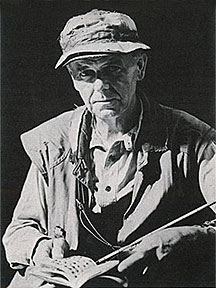 I'm neither a pin man nor a bat man but a hat man. I like the British fishing helmet but all forum members should fish with style, using a Big Jim Hat. What is this style of hat called, do you know?
Myself, in my adult daily life, wear a light soft mesh baseball cap under a wool lined waxed cotton Hardy hat. This combination protects both my head, my glasses, eyes and hearing aids and make me stand out from the crowd. It is not very dissimilar to how Big Jim looks.

dd
Posts: 6312
Joined: Tue Jun 08, 2010 4:59 pm
Location: Arrey, N.M. aka 32°52'37.63"N, 107°18'54.18"W
Striving for a less complicated life since 1949...
"Every day I beat my own previous record for number
of consecutive days I've stayed alive." George Carlin