Our resident Swellcat requested a possible thread idea in another thread.
http://www.flymphforum.com/viewtopic.php?f=6&t=6820
There are standard go-to's and we've answered that question a number of times, "what's your top five flies? etc." But I have added a couple new flies, or at least they've climbed the rank from occasionals for most productive.
We can do this a number of ways, you do whatever you like, but the question is, which flies did you honestly take the most fish on this past season? Yes, the flies we fish most often tend to run up the numbers, but I had a couple surprises this season and wondered if you might have as well. I don't mean to exclude all the zebra midges, pheasant tail nymphs and articulated leeches, it just seemed more appropriate to show the soft-hackles. You do what you like. Pics aren't necessary but are very helpful. Either way, I'd like to hear what worked for you in 2015.
Mine shouldn't be much of a surprise to anyone as I've tied up a number this season and taken pics and quickly shared successes, but a few hadn't been photographed, and still haven't with any real effort.

1. Eric and I dubbed this fly a name I won't repeat here, but it was crazy productive. Something I have fished for a couple years, mostly hatch specific and brought out right away this past March on Pine Creek. As March turned to April I kept fishing this fly, maybe on every outing this past season and it caught fish all year, right up into December. About midyear I got superstitious about the tinsel and only fished the tinsel version til the end, but I'll be happy to fish the buttonhole rib version in a few weeks.
It's a woodcock hackle (could be grouse if you like), a mix of two shades of green seal and a portion of natural seal, prespun on primrose, or in a split thread of brown. Gold tinsel (irregularly spaced wraps, seemed to be a trend). The second version is grouse and uses a primrose buttonhole silk rib. These both worked great. For the upcoming season, I want to have plenty of the woodcock hackle, the dubbing blend prespun on primrose and maybe a finer gold rib. I'm very excited about fishing this fly often.
Will's CF Caddis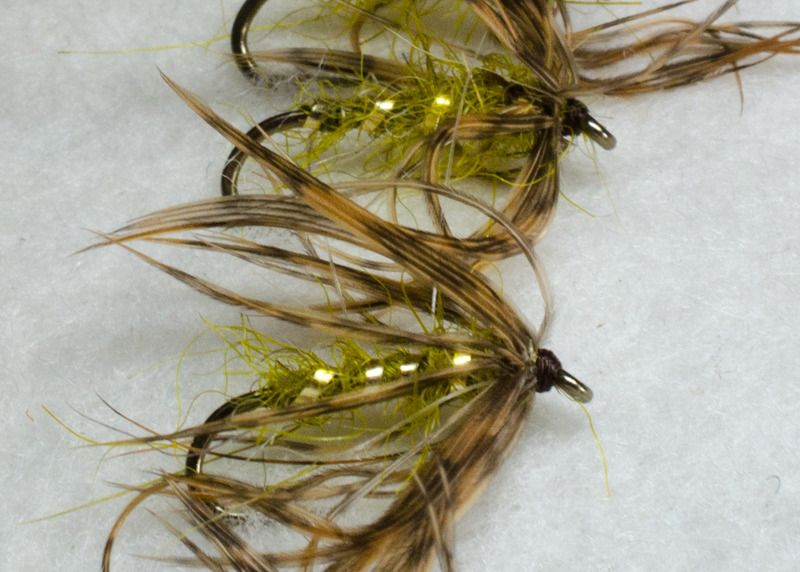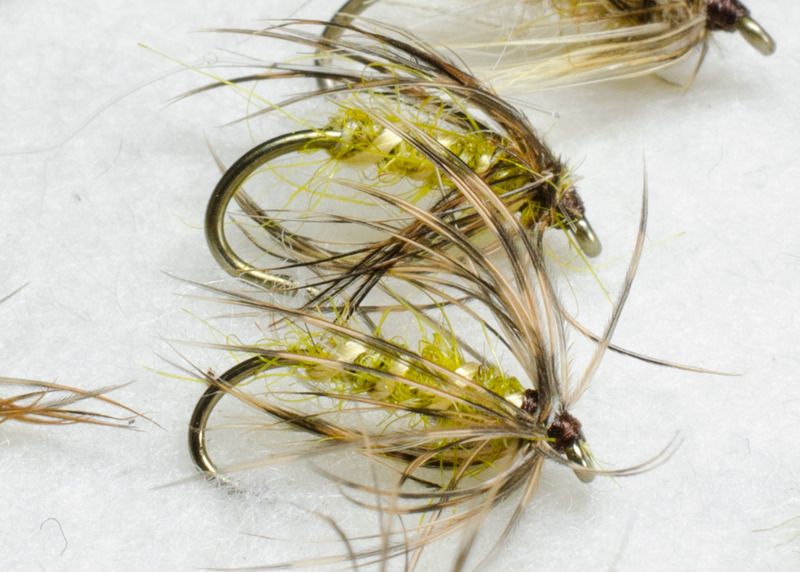 2. A second major surprise, at least in this configuration. The
Waterhen and Turkey
. I shared earlier that in the Spring we were having no luck at all during a trip to Roscoe so we stopped in the Dette shop to see Joe. I usually try to buy something, even when I don't need anything, least of all a stack of soft-hackles, but I bought half dozen flies tied with a long, wispy waterhen hackle and turkey tail herl body, ribbed with gold wire. This fly saved the trip for me, with all my takes coming on this fly. Eric caught as many on the fly as well and we went back and tied a few more at the "trout trailer". This fly continued to produce all year long and we joked about it's effectiveness, even when there was no discernible hatch. Just a great fly. I have tied it with gold rib, small and medium and with a reddish copper rib. I also tie it with the herls from a golden pheasant tail, well marked. They all work. Another fly I'm very excited to fish again this season.
3. Another fly that moved up the ranks to a regular position in my cast is a very
Pale Flymph
tied with natural seal, very creamy fox dubbing blend prespun on primrose silk and hackled with a creamy hen hackle. I fished this often as a counter to whichever dark fly I was fishing (hares ear, black gnat, william's favorite). We seemed to catch every sunny day possible this summer and the brighter flies made a difference. At least this one did.
4. No surprise, the
Hare's Ear Flymph
worked anytime anything would work. I've tied this fly much more sparsely in the past couple years. I still carry rows of the bushier versions, but after fishing with John Shaner on the Firehole in 2014, I tied some more like spiders and less like flymphs. They had their place and did well all season. I suspect I'll carry plenty of the fuller, flymphier version, but this earned a place in the box for sure.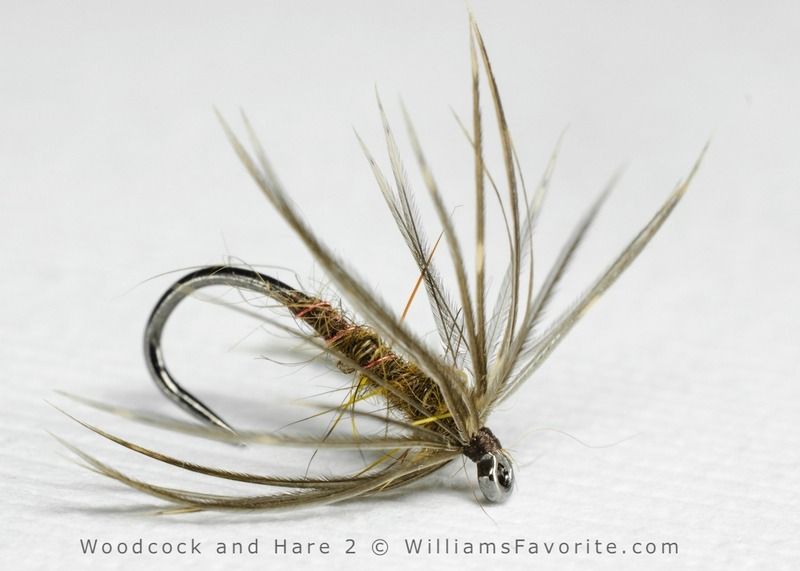 5. It would be easy to declare the Partridge and Orange was easily the most productive fly of the past season, and many seasons. That's true, but not very interesting. So a variation, the
Rusty Spider
. After fishing the P & O several times as a rusty spinner hatch early in the morning or at dusk it always worked, but I wanted to find a variation that was more robust for night fishing. I came up with this version tied with Guttermanns rusty colored rayon. It darkens to a rich rust color and did great on several trips, especially at dusk. Oddly, it fished best during a light cahill spinner fall. But I'll tie some of these pre-rigged for easy fly/tippet/dropper replacement in the dark.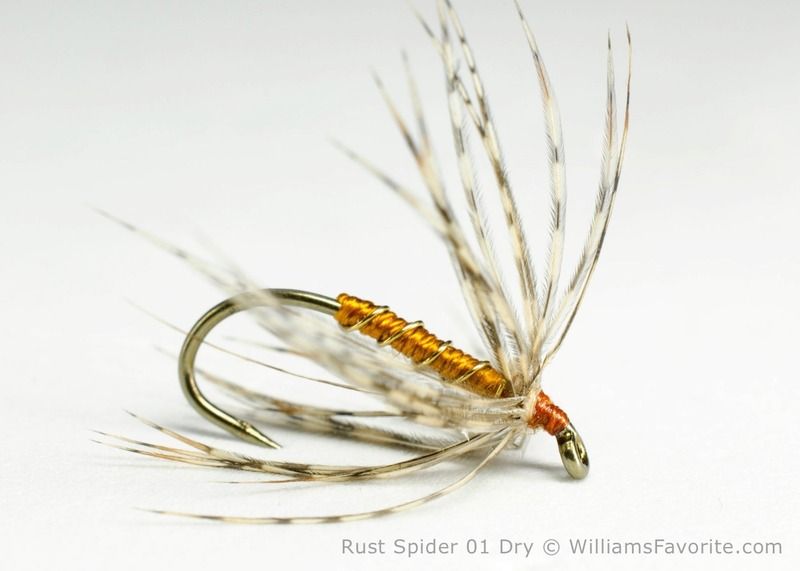 Sorry that got a little wordy.
w