Last year was my first year fishing soft hackles, thanks to John Shaner! He has come to the Midwest Fly Fishing Expo at Macomb Community College in Michigan the past two years. He sparked my interest two years ago, by after his presentation last March I decided I would fish nothing but soft hackles this year, and I did. Well, except for the Trico hatch. I fished two flies most of the year. I tried three the first few times out, but after getting tangled up so many times, I stuck with two. For the most part I rarely got tangled, unless I tied the dropper longer than 4"-5". I hope he will be coming back to the Expo this March.
Anyhow the three that I used were the orange partridge, yellow partridge, and the green partridge. I came to the dance a little late, so I have no Pearsall Gossamer. So, I've been using Ephemera. This past year I have been reading everything I can get my hands on regarding Spiders and Soft Hackles. Think I read about 15 books. T.E. Pritt's North Country Flies and Brook & River Trouting by Edmonds and Lee were the first I read, thanks to the recommendations by John Shaner. There are a couple more books I would like to get, but since they are out of print and so crazy expensive, one is close to $2,500, I probably will never get a hold of them. I plan to experiment with other soft hackles this coming year and can't wait to get back on the river this spring when I open up my cottage. I am definitely hooked on soft hackles, and I'm never going back!
Sorry, my tying and pics are as good as many others here, but with more practice I'll get better.
Orange Partridge
Green Partridge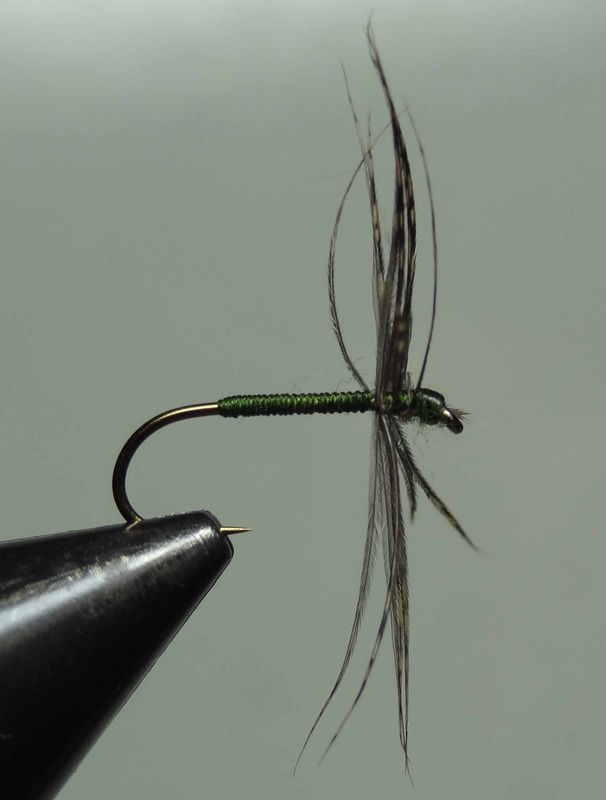 Yellow Partridge